"I've got sunshine on a cloudy day

when it's cold outside I've got the month of May"
I'm told it's the Siberian wind, but Wow it's cold outside. Maximum of -8 today. *yikes*. I don't think I've seen the sun or the blue sky since I arrived two weeks ago. It's all grey and cloudy and even the snow has turned to compacted brown ice. I've taken to singing the 'My girl' song as I walk too and from work. It's become my "I'm cold and everything is a very monotone grey, but at least I can sing and imagine the winter away" song.

I'm still learning about this winter business. It's taken a while, but I'm getting better at picking the temperature when it falls below zero. Previously I had thought that 'cold' was 'cold'. Well, to my Australian friends, it's not. There is a noticable difference between zero (cold) and -8 (bloody cold). What I haven't learnt yet is how to dress stylishly for work when it's bloody cold. Thankfully Berlin has pretty slack dress codes. Today I'm wearing thick wollen socks under my jeans, snowboots, shirt, cardigan, jacket... and when I go outside... puffy winter jacket, hat, gloves, scarf. I look like a puffy green mushroon. What I want to look like is this: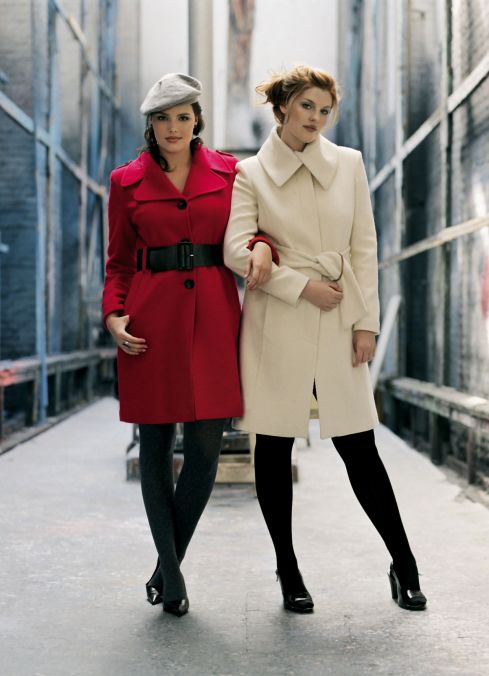 But this is, unfortunately, is not warm enough. Not even close. Where are their hats, scarf and mittens? And... tights will never (ever) be enough warmth on your legs in this weather (trust me, I tried). And highheels !? That, my friends, is a one-way trip to the emergency department.
And while these two lovely ladies are not nearly well enough clad for winter either, I'm at least hoping to channel a bit more of them, with a touch of sophicated "business women" (aka previous picture) into my winter wardrobe and slowly, slowly become someone who not only understands the difference between cold and bloody cold, but can also dress fantastically for both occasions!